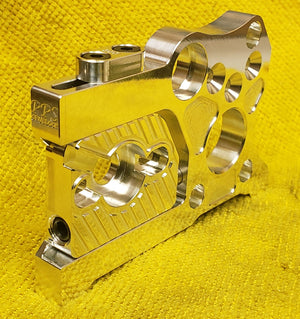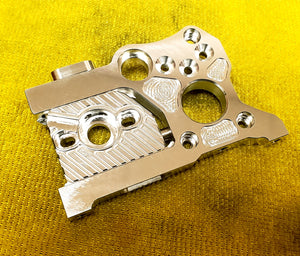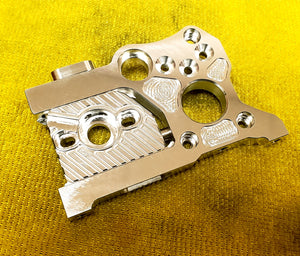 Grublock Motor Mount for Arrma Kraton and Outcast 8s 1/5 scale
LIMITED QUANTITY AVAILABLE!

This is the Grublock motor mount for the 1/5 scale Arrma Kraton/Outcast 8s and EXB 8s. 

Featuring the PPS Grublock adjustable gear mesh system, this motor mount has a universal insert that will fit both 25mm and 30mm screw spacing motors up to 60mm in diameter. This will NOT fit the Hobbywing MAX4 70125 motor
This mount will accommodate a TTC (Total Tooth Count) between 66 to 97 teeth. To find your TTC, simply add your pinion and spur gear teeth together.

Here's a couple examples of how to use TTC when choosing gearing. 
A 39 tooth spur with a 39 tooth pinion is a total tooth count (TTC) of 78 and will fit great.
A 39 tooth spur with a 20 tooth pinion has a total tooth count of 59. That is less than the minimum TTC of 66 for this mount, and your gears will not mesh. 
A 50 tooth spur and a 50 tooth pinion has a TTC of 100, and is more than the 100 TTC maximum. 

This will drop right into your 1/5 Kraton 8s or Outcast 8s. It will not work on the 6s BLX Kraton/Outcast. If your truck is 1/7 scale 6s normally and you are upgrading to 8s, please look for the Grublock Motor Mount for Arrma 6s. 

Right now, the only thing that does not fit is the factory plastic spur gear cover. I have reinforced the top arm substantially and the stock spur gear cover will not fit without modifications. I am including a 3d printed spacer to shim your stock spur gear cover, and that SHOULD work. I honestly lost my factory spur gear cover and cannot test it. A lot of people do not run them anyway so I am not super pressed to get that last detail sorted. You COULD Dremel/cut up your stock gear cover to make it fit if you want. 

This motor mount will include the motor mount itself, adjuster screw kit, motor screws, plus new hardware to mount it onto the chassis. Basically anything that threads into metal is included.