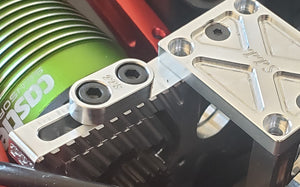 Tallboy Motor Clamp
This is the Tallboy motor clamp, and works for the GRUBLOCK and "V4 Screw Adjust" motor mounts.
It will include the new top clamp and two new socket head cap screws. 
 The main benefit of this part is that it changes the top clamp screws to socket head cap screws with 3mm drive, vs the standard 2.5mm drive screws.
Please note, if you're running small gears AND a roll bar or an E brake, this part may interfere with the diff cap, and you won't be able to make your gears mesh. 
I will get a specific minimum Total Tooth Count eventually.